'Agile' is an approach to working used across the world's leading tech organisations to help improve corporate culture and the quality of products. Activate Agile is an interactive afternoon designed especially for students and educators to learn more about better ways of working with Agile. Running alongside the AgileAus Conference, this is a unique opportunity to learn and share with those working in companies such as Spotify, Atlassian, SEEK, Microsoft, Redbubble and ANZ.
What will you get out of Activate Agile?
Find out what it's really like to work as a developer, business analyst, product manager or designer.
Discover the traits that tech employers are looking for in new team members.
Learn about the approaches tech companies use to build apps, platforms, and portals, plus how to build them right!
Gain insight into the workplace practices of Agile companies (including pairing, standups, sprints, iterations and the role of customers).
Meet face-to-face with those living and breathing code, design and strategy every day.
It is FREE for students and educators to attend Activate Agile!
Registrations opening soon. For more information, please email: team@agileaustralia.com.au
Bring Activate Agile to your university – Activate Agile is going on tour in 2019!
Activate Agile on tour is an AgileAus initiative to take Activate Agile on the road and make the exciting learnings available to students across the country.
The AgileAus community is committed to making the fundamentals of better ways of working in the Agile space accessible to students everywhere. By partnering with AgileAus, your University can host an Activate Agile on your own campus, allowing tech curious students and educators can learn first hand from touring industry experts.
For more information about how to host an Activate Agile at your university please email: team@agileaustralia.com.au.
"Agile Australia really helped expose me to different areas that I otherwise wouldn't have thought about. I walked away exposed to concepts in business, strategy, efficiency, code cleanliness, code safety, teamwork, game theory and even neuroscience. This has given me many interesting avenues to pursue further knowledge in."
– Andrew Jakubowicz, First Year Software Engineering Student at Monash University (2016)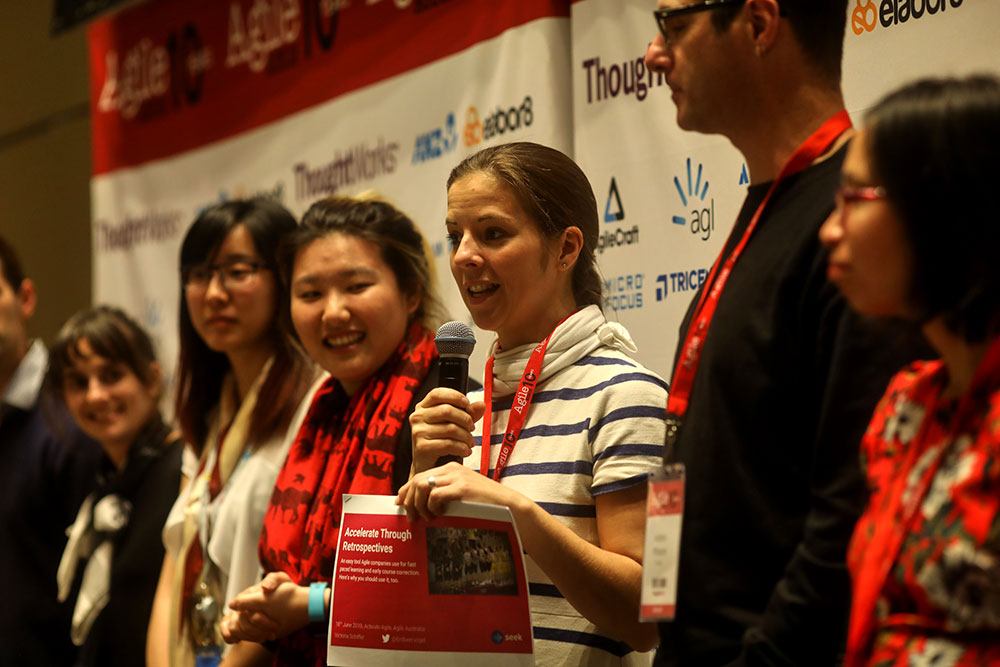 More student opportunities? Volunteer at AgileAus19:
We always love hearing from students that are curious about Agile, who can help the Conference run smoothly by packing and handing out satchels, running mics, minding doors, and generally assisting with the management of the 1200+ Conference attendees.
Following an introduction to Agile presented by a bona-fide Agile Coach, you'll get to choose from a range of activities to participate in, all happening in one room!
We'll be using a 'vote with your feet' approach, which means you don't need to sign up to any of the activities prior to the day – just walk over to the ones that interest you.
Welcome: What is Agile? 
Alexandra Stokes, ReBoot Co
Activities
Each activity will run from 15-20 minutes. After each activity, students are welcome to rotate to whichever activity they would like to participate in next.
Session Title Speaker, Organisation
Session blurb
Session Title Speaker, Organisation
Session blurb
Session Title Speaker, Organisation
Session blurb
Session Title Speaker, Organisation
Session blurb
Session Title Speaker, Organisation
Session blurb
Keynote
Listen in on these keynote presentations from international thought leaders, alongside the delegates of the AgileAus Conference.
Session Title Speaker, Organisation
Session blurb
Session Title Speaker, Organisation
Session blurb
Session Title Speaker, Organisation
Session blurb
Want to know more about Activate Agile? Check out events from previous years:
2014 / 2016 / 2017 / 2018