The AgileAus21 Conference will pivot on the theme of 'What Matters Most'
Alternating between Sydney and Melbourne since 2009, the AgileAus Conference is where curious minds come to connect, learn and explore better ways of working.
We are thrilled that AgileAus21 will finally be able to shine (in person at Hilton Sydney) in December 2021, inviting a growing community to connect with their peers to reimagine their work; explore the power of collaboration; share their perspectives and delve into opportunities for the future!
We do hope you'll be a part of the buzz!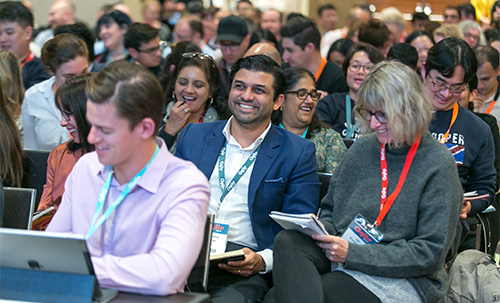 Wednesday 8 – Thursday 9 December 2021
Hilton Sydney
AgileAus is a welcoming, community-driven event attracting about ~400 attendees (in line with public health recommendations) from areas such as telcos, finance, insurance, nimble startups and non-profits to digital businesses and government.
With a unique, inspiring and collegial blend of content – ranging from mind-stretching sessions on culture, tools and tech; case studies, interactive Deep Dives, blue-sky gazing and fun games – AgileAus caters to budding and experienced agilists from across Australia.
According to attendees, these are the top four reasons to come along to AgileAus:
To learn from the Australian Agile community

To discover new approaches to work

To benefit from networking opportunities
Proudly supported by Agile Alliance and run by Slatterys, the AgileAus Conference has been a space that supports new ideas, methods and tools, and shares the stories behind the growth of Australia's Agile community. You can find out more about the history of AgileAus here.
Can't make it to Sydney? Check out the Melbourne Conference which is happening in-person at the Sofitel Melbourne on Collins and virtually (6-7 December 2021).
Want to see what AgileAus got up to when in-person events weren't on the cards?
You can check out the 20+ virtual AgileAus Circles, which were online opportunities for the AgileAus community to unite, connect and share.
Stay in the loop
To receive updates about AgileAus and be subscribed to the mailing list, send us an email with your first name, last name and email address to signup@agileaustralia.com.au.
Follow us on social media and join the conversation using the hashtag #agileaus.