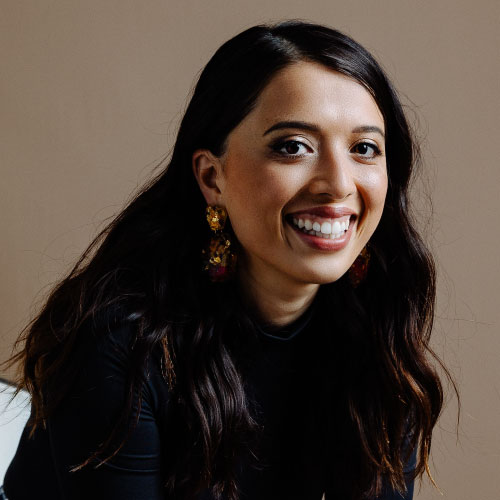 About Astrid Jorgensen
Astrid Jorgensen is a Brisbane-based choral conductor, composer, and presenter who is teaching the world to sing. Co-founder and director of 'Pub Choir™', and it's online adaptation 'Couch Choir', Astrid has become one of the most recognisable faces in the world of community music making. Armed with a quick wit and an unquenchable enthusiasm for singing, Astrid has delivered her unique music lessons to over 300,000 people worldwide since Pub Choir's inception in March 2017.
Astrid's work has been endorsed by the likes of Mariah Carey, KISS, The Cranberries, Richard Carpenter, and she has shared stages with such music heavyweights as The Rolling Stones, Neil Finn, Paul Kelly, Ben Lee, and Meg Mac. Astrid's ability to enchant audiences and guide untrained singers to musical greatness has been featured extensively in world media including the BBC World News, the New York Times, Australian Story, and Vogue Magazine. Additionally, under Astrid's leadership Pub Choir has raised over $300,000 for charity since 2018, for which Astrid was nominated for 2020 QLD Young Australian Of The Year. Astrid is also a co-creator and co-owner of 'Australia's Biggest Singalong!', a 2 hour, world-first TV broadcast in which she simultaneously taught a live audience, and viewers at home around Australia to perform in 3-part vocal harmony, live on SBS Television on June 5th, 2021.
To receive updates about AgileAus and be subscribed to the mailing list, send us an email with your first name, last name and email address to signup@agileaustralia.com.au.
AgileAus acknowledges the Traditional Owners of the Countries on which we gather for our events. We recognise the sovereignty, knowledge and community of First Peoples and pay our respects to the Ancestors and Elders who pave the way for future Leaders.
We walk with great reverence on the various places the AgileAus team live, work and visit. Always was, always will be.