6 - 7 DECEMBER 2021 • SOFITEL MELBOURNE
6 - 7 DECEMBER 2021 • SOFITEL MELBOURNE
The AgileAus20-1 Conference will pivot on the theme of 'To Agility and Beyond'
Alternating between Sydney and Melbourne since 2009, the AgileAus Conference is where curious minds come to connect, learn and explore better ways of working.
In the face of a turbulent 2020, the Conference (as we know and love) was forced to be put on hold. Virtual AgileAus Circles, addressing burning questions and tackling current challenges, took the stage in 2020 in its stead, keeping the conversations flowing, and opportunities for the AgileAus community to unite, connect and share.
We are thrilled that AgileAus20 will finally be able to shine (in person in Melbourne, and virtually) in December 2021, inviting a growing community to join their peers to reimagine their work, harness the power of collaboration, learn from each other and delve into opportunities for the future.
In addition to exploring how Agile approaches can bring value to individuals and organisations – AgileAus20-21 will take the opportunity to reflect on the year that was, and explore stories with new perspectives on revisiting our Agile values:
Individuals and interactions over processes and tools
Working software over comprehensive documentation
Customer collaboration over contract negotiation
Responding to change over following a plan!
We do hope you'll be a part of the vibe!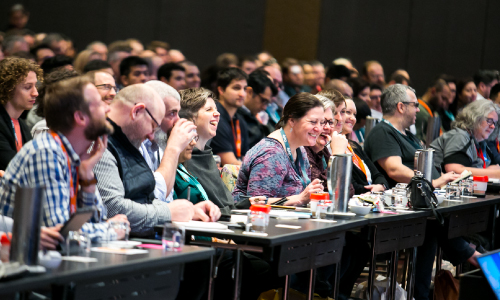 Monday 6 – Tuesday 7 December 2021
Sofitel Melbourne on Collins
Is AgileAus20 for me?
AgileAus is a welcoming, community-driven event attracting about 1200 delegates* each year from areas such as telcos, finance, insurance, nimble startups and non-profits to digital businesses and government.
With a unique, inspiring and collegial blend of content – ranging from mind-stretching sessions on culture, tools and tech; case studies, interactive Deep Dives and blue-sky gazing – AgileAus caters to budding and experienced agilists from across Australia.
According to attendees, these are the top four reasons to come along to AgileAus:
To learn from the Australian Agile community

To discover new approaches to work

To benefit from networking opportunities

To hear international speakers
*A bit different this time! AgileAus20 will adhere to health recommendations to dictate how many attendees can be accommodated safely.
Proudly supported by Agile Alliance and run by Slatterys, the AgileAus Conference has been a space that supports new ideas, methods and tools, and shares the stories behind the growth of Australia's Agile community. You can find out more about the history of AgileAus here. To visit the beating heart of the AgileAus community, head over to The Hub!