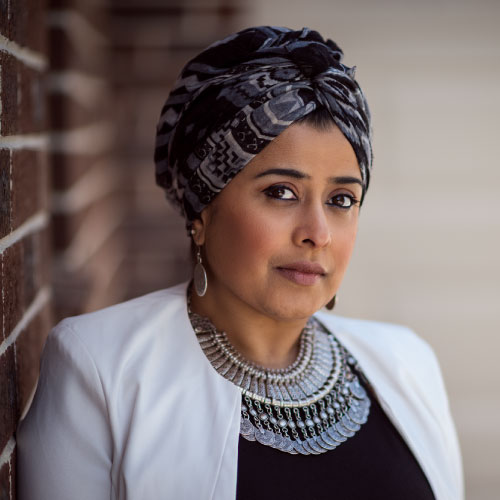 About Tasneem Chopra OAM
As a Cross-cultural Consultant, Tasneem Chopra OAM addresses issues of diversity, equity and inclusion across organisational leadership, including intersectionality within government, corporate, arts and community sectors.
She assists clients apply an intersectional lens in their work praxis towards greater cultural competence, innovation and profitability. Her goal in this space is to ensure diversity and inclusivity become an integral part of how any progressive organisation does business. Tasneem has developed diversity, equity and inclusion policies, delivered workshops, managed projects, curated exhibitions and executed engagement strategies for and on behalf of countless clients.
For her efforts she was appointed the inaugural Ambassador for Women of Colour, Australia and awarded an OAM. She has also been named an 'Anti-Racism Champion' by the Australian Human Rights Commission and holds a Distinguished Alumni Award from La Trobe University in recognition of her impact in the diversity sector.
Tasneem is a Board Director for The Australian Centre for the Moving Image (ACMI), as well as a Strategic advisor for Fire Rescue Victoria and the Collingwood Football Expert Panel on Anti-Racism. She has also enjoyed governance affiliations with Ambulance Victoria, the In-Touch Multicultural Centre Against Family Violence, the Luke Batty Foundation, NOW Australia, and a Board Chairing role for the Australian Muslim Women's Centre for Human Rights.
A TEDxMelbourne presenter and writer, Tasneem has featured in SBS Life, The Guardian, The SMH and appeared on BBC's IQ2 Debates, Q&A is a regular panellist on The Drum and host of the podcast series, 'Strengths Untold'.
Invited

Who's Missing from your Table?
The way organisations create content or problem solve is only as good as the talent they draw in. How much diversity exists in this mix? How inclusive is this space for those that don't reflect the majority demographic? When leaders are not consciously inclusive, they become deliberately exclusive and the impact of missing perspectives is detrimental to growing your business. This session will tackle the long game of doing diversity better so your decision making table is representative.
Half-day Workshop

The Diversity Dividend: Making a Case for Cultural Competency in the Workplace
This workshop will help build your capacity to create a culturally competent and inclusive workplace.
Read more
Join this session for an opportunity to conduct an in depth interrogation of your organisation's approach to diversity in all its dimensions and how this impacts workplace inclusion and efficiency.
We'll explore:
How to gain a shared understanding of cultural competence across portfolios
The application of intersectionality, diversity and inclusion in work praxis both internally and with external engagements
Improved literacy around cultural safety & intelligence at work
Understanding the impact of not applying an intersectional framework to strategic plans and operations
Case studies around best practice in cultural diversity and inclusion
Practical takeaways to implement right away!
To receive updates about AgileAus and be subscribed to the mailing list, send us an email with your first name, last name and email address to signup@agileaustralia.com.au.
AgileAus acknowledges the Traditional Owners of the Countries on which we gather for our events. We recognise the sovereignty, knowledge and community of First Peoples and pay our respects to the Ancestors and Elders who pave the way for future Leaders.
We walk with great reverence on the various places the AgileAus team live, work and visit. Always was, always will be.